Why be an electrician?

Average income of a journeyman electrician per year:
$56,180
Average salary for other
careers: $39,810

Electrical job demand outlook:
2X
The demand for electricians is DOUBLE the average demand for all other jobs.

IEC Student Loan Debt:
$0
Average college student debt: $32,731
Highly Skilled = High Paying = Security
In the electrical field, your skill is rewarded. You'll be paid more than average jobs, and the demand for new electricians in the next decade is DOUBLE the national baseline, creating reliable job security.
Earn While You Learn
As an IEC electrical apprentice, you'll be earning a great wage while working on exciting projects with a contracting company during the day, while enhancing your on-the-job learning with IEC instruction. At Your local IEC Training Center, you'll learn from America's leading professional instructors from the industry's best electrical curriculum. You'll enrich your learning with a hands-on, interactive experience in our state-of-the-art laboratories. As you build your skills with IEC, you advance in your career.
IEC electrical contractors invest in our apprentices and want them to excel in the trade. They believe in the merit shop philosophy, providing growth and merit opportunities to individuals that put in their all. A career with an IEC contractor is the true American Dream.
And although you are earning college credit while you're perfecting your trade skills, NO STUDENT LOANS ARE REQUIRED!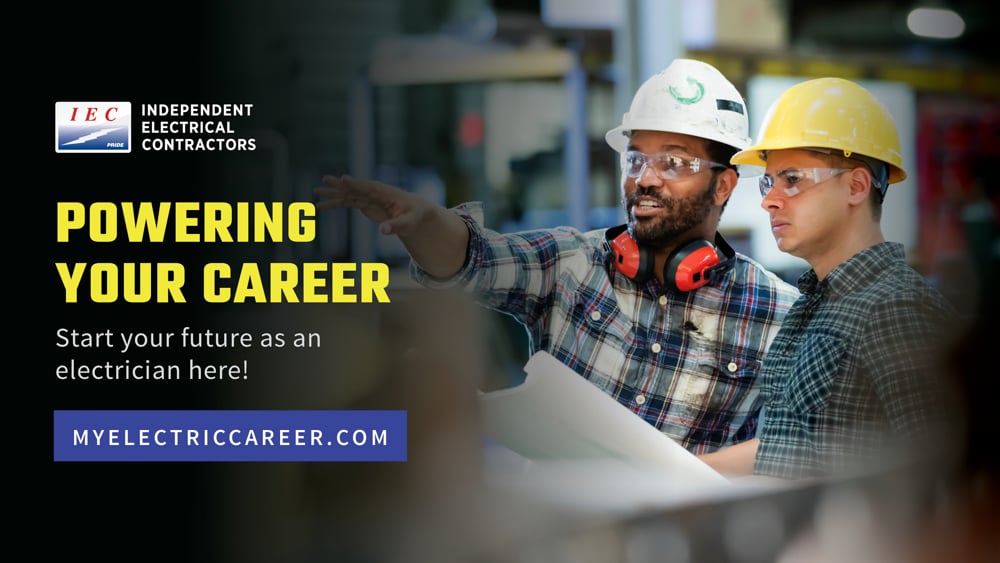 Powering you forward
As an electrician, you control your destiny. Your powerful career puts cutting-edge technology in your hands and places you in one of America's most in-demand occupations. As our reliance on energy sources rises, so does the need for skilled electricians!
As your career grows, you will have unlimited career paths to choose from. What inspires you? Leading a team? Owning a company? Working on complex construction projects? You have the POWER to build the exciting future of your dreams.
Career Opportunities
While most everyone enters the electrical field as an apprentice, the direction your career takes after you've been trained is entirely up to you. Here are just some of the career paths you can follow after apprenticeship. Click on a circle to learn more.
The average income of a journeyman electrician is $56,180 per year
Potential Benefits
Paid Apprenticeship
Paid Vacation & Holidays
Health Benefits
Performance Incentives
Retirement plan
Education
College Accredited Hours
Rewarding & Essential Career
$0 College Debt